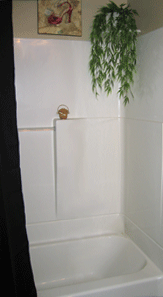 There is nothing quite as satisfying as taking a long, hot bath in "the perfect tub". For some the perfect tub will be a huge whirlpool, jets running full blast. For others an old traditional cast iron claw foot tub is just right. Whether your style is traditional, contemporary or somewhere in between, "the perfect tub" can be found. As with any other element of your home, the first step is to consider the needs of your household, and arrive at the perfect medium between design and practicality.
Types of Tubs
The tub will be a big part of your bathroom and a great opportunity to feature it as a design element. First, pick a style that suits your needs and space. Choose from recessed, corner, freestanding, platform, or a tub/shower combination.
A Recessed Tub has one finished side showing, and is bordered on the other three sides by your bathroom walls. A Corner Tub is like a recessed tub, except you see two sides of the tub. It has one finished side and one finished end, so it fits into a corner. These come in many different styles. They can be a good choice for a tighter space, to help create a more open feeling.
Freestanding Tubs are finished on all sides and can be placed anywhere – smack dab in the middle of the room or tucked into a corner. They also allow for unique design approaches, such as a claw-foot tub in a more traditional setting, or a soapstone tub in a more modern design.
Platform Tubs have no finished sides, but are placed into a structure built on site and can go anywhere in the room that space allows. This is a great choice if you want to customize the surrounding platform to match your décor.
A platform tub can rest on top of the platform, so that the lip of the tub is showing, or can be recessed below the edge of the platform for a clean line. Just keep in mind how the edge of the platform will feel on the back of your neck as you lean back in the tub. Platform tubs are usually the most expensive type, since you have to build the entire surround as well.
Whirlpools
Give some consideration to whether or not a whirlpool is right for you and your budget. There are many practical considerations when buying any tub, and this is especially true for whirlpools.
First you'll need to make sure that your bathroom floor can handle the weight of a large full tub. Most bathroom floors can support about 40 pounds of pressure per square inch, so find out how much your tub will weigh when full of water and do the math. You may need extra support to hold the extra weight.
If you plan on buying an oversized tub, measure every step of the way into the bathroom. You don't want to find yourself in a situation where you have to choose between returning the tub or breaking open an outside wall. You'll also need to make sure that the tub is installed so that you'll have easy access to the pump in case any repairs are needed.
Just like regular tubs, whirlpools come in recessed, corner, freestanding and platform types, in a myriad of styles, sizes and colors. Whirlpool platform tubs are the most popular choice.
A whirlpool has a pump which mixes air with bathwater and forces it out the jets, creating those massaging bubbles. You can buy them with single- or variable-speed pumps, but keep in mind that if the pump is stronger than 1 horsepower, or you choose a style with an inline heater, it may require 240 volt wiring.
They are made with 2 types of jet systems, either fish-hook which uses a small number of large jets, or the specific-point system, which has a larger number of smaller jets (which massage specific points on the body). There are also tubs that include both systems for lots of bubbles and specific massage jets.
You will also need to make sure that your hot water tank can handle the demanding needs of a whirlpool tub. Your tank should be at least 2/3 the size of your tub – a 90 gallon tub needs at least a 60 gallon water heater. If your water heater is too small, or you don't want to dedicate that much of your hot water to a single bath, you can also get a tub with an inline water heater, which will heat and maintain the heat of the water for the duration of your bath.
Also keep in mind that whirlpools have special cleaning needs and you will need to follow the manufacturer's cleaning instructions carefully. Unlike regular tubs, the bathwater stays in the pipes from one bath to the next, where it can harbor bacteria. There are new styles on the market that correct this problem, but they will be more expensive. Also keep in mind if you have kids or anyone in the family with long hair, they have to be careful to wear their hair up so it doesn't get sucked into the jets.
All of that said, there is nothing more relaxing than sitting in a whirlpool tub at the end of a busy day.
Materials
Once you've decided on tub type, it's time to think about materials.
Enameled Cast Iron is a popular choice that will last for decades. It has a very substantial, timeless look, is durable, retains heat well, comes in a wide variety of colors and, though not the cheapest choice, standard models are affordable.
The downside of cast iron is that it's VERY heavy! An empty tub can weigh over 300 pounds and over 600 pounds when full of water. Make sure that your floor is well braced to support the load. The enamel can also chip, showing the black cast iron underneath. The enamel can be resurfaced, but it's not cheap to have done, and claw foot or special orders tubs can be very pricey.
Enameled Steel is much lighter and more affordable than cast iron, but with a similar look. Since it's thinner it can also chip easily and can be noisy when water hits it. It can also dent on installation and the color supply is somewhat limited.
Fiberglass is another affordable alternative. Although it is lightweight and comes in lots of styles, color selection is limited. It also doesn't hold heat well, can scratch and fade and is not as durable as acrylic.
Acrylic Tubs are available in a wide choice of styles, colors and sizes. It is more durable than fiberglass, lightweight, and will hold heat well if properly insulated. It is more expensive than fiberglass, however, and can scratch and stain (especially with hair dye).
Cast Polymers, which are Cultured Marble, Granite or Onyx, look like stone, but can be molded like synthetics. They are thicker than acrylic and hold heat well. The gel coat finish is not as durable as acrylic and they can be pricey.
Higher-end alternatives, although limited in styles and very expensive, are becoming increasingly available. Soapstone, well-suited for a timeless or contemporary custom look, is an excellent choice for a tub because it retains heat so well, although it is heavy. Brass and copper tubs also retain heat well and the thicker gauges resist dents.
Designing For You
Once you've considered your bathtub type and material, think of what best matches the needs of your household and your design. Choose a color that will match, compliment or contrast your décor, depending on the look that you're going for. Keep in mind that darker tubs will show chalky mineral deposits more readily, bright colors are great for bold statements and will enliven the room, but be aware that the "it" color today may go out of style in a few years and may be hard to redecorate around. Whites and pastels are the most popular choice for tubs and will give a timeless, elegant look.
Consider your safety needs as well, especially if you have young children or elderly people in your home. Do you need, for example, to install safety rails to make it easier to get in and out of the tub? (If you do, extra support may need to be built into the wall to help support the extra weight on the rails.)
If you choose a high platform design keep in mind that steps can be slippery when wet. Water controls, especially in whirlpools, should be installed in such a way that they are accessible from inside and outside of the tub, and if any part of your tub has a glass partition or surround, make sure it is made with safety glass. Keep in mind that it is best to have about 30" x 60" of clear floor space to give ample room for getting in and out of the tub.
When you are ready to go shopping for tubs be prepared to climb in and have a seat. Just like choosing a mattress, the best way to choose a tub is to sit down and test it out. And bring as many of your family members along as you can. If you're 5'3", but the tallest member of your family is 6'5", you will have different ideas of what is comfortable in a tub.
Also keep in mind that two tubs that have the same outside measurements may not have the same shape and space on the inside. Inside measurements of a standard tub are about 5 feet long, 15 inches deep and 30 inches wide. Standard outside dimensions of a tub are between 5-6 feet long and 32 – 60 inches wide. And, again, make sure the tub you choose will fit into your house and through the bathroom door.